Cumberland Mountain Lodging Packages
Romance Package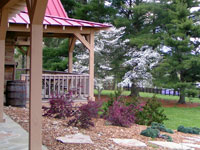 Rent the Lodge for only the two of you. This place is PRIVATE and very BEAUTIFUL.
Let us customize your activities package to add such things as on-site massage and spa services, catered meals, limousine to Cumberland County Playhouse or other things we can create.
Basic Package for two nights includes continental breakfast, wine or champagne service in the evening.
$525 plus taxes. Other services would be extra.
---
Couples Massage Training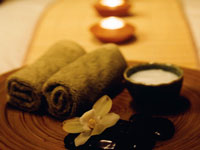 Licensed massage therapist Jeannie Fitzgerald of Anew You Day Spa can teach couples how to do massage therapy in a manner that will lead to lifelong skills for each other. In good weather these classes can be held in the pavilion which is open to views of the mountains. The teaching can be done as a day service only or the couples can stay in the Lodge. Cooking classes by Chef Carlos can be combined with the massage course. Up to three couples can stay in the Lodge.
Basic package cost is $165 per night per couple plus $125 per couple for the massage course. Contact Anew You Day Spa for Chef Carlos' rates.
---
Theater and Music Package

Stay at the Lodge and attend shows at the famous Cumberland County Playhouse, or at the Big South Fork Opry or local bluegrass concerts when available. Limousine transportation. Other amenities can be added.
Basic Package, per couple, for two nights is $575. Add ticket costs.
---
Golf or Tennis Package

Play golf at any of the regional courses and we will help you obtain reduced green fees. The two closest courses are the Bear Trace and Lake Tansi . Tennis is also available. Spouses who do not care to golf can request on-site spa services. Catered meals can be provided in addition to the continental breakfast which is included.
Basic Package for two people for two nights is $450, plus the reduced green fees and any other requested amenities.
---
Health and Beauty Package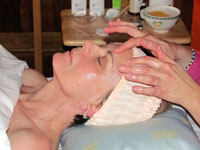 Combine fitness activities with relaxation techniques and beauty services. There are miles of hiking and biking trails and an exercise equipment room. A personal trainer is available. Chef Carlos can teach healthy cooking classes. On-site massage and beauty services can be provided.
Basic package for two people for two nights is $400 plus the cost of the personal services. Contact Anew You Day Spa for Chef Carlos' rates.
---
Cowgirls at the Ranch Package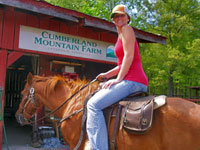 Get the girls together and leave the rest of the world behind. Time together on the verandas or, in winter, around a blazing fire can be so restorative. If you want, put on your boots and help check the cow herd or you can hike the beautiful farm. On-site spa services can be arranged. The Lodge is comfortable for six cowgirls but if you want to bring a bunch you can turn the Lodge into a bunkhouse slumber party.
Basic Package is $200 per night for first two cowgirls and $50 each for each additional.
---
Wildlife Package

Most species of birds seen in Tennessee are seen on our farm. One species not expected in Tennessee has been seen. See if you can spot another. Explore our natural habitat. There are six wildlife observation blinds on the farm for spotting deer and other larger mammals. Some of these blinds have feeders to attract game. We have recently seen a black bear.
---
Sportsmen's Package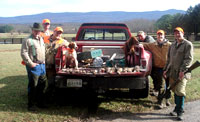 Spend time on clay birds before going for pheasant and wild quail. Kennels are provided for your bird dogs or by arrangement dogs and a handler can be made available to you. Continental breakfast and a lunch are provided at mid day. A catered evening meal of the day's harvest can be provided upon request. At the end of a day's hunting you can fish our two stocked ponds. We can also coordinate hunting for Russian wild boar, rams, wild goats, deer, elk, buffalos, red stag and other big game.
Basic cost is $100 per hunter, per night, plus arranged fees per bird, plus any extra services requested.
---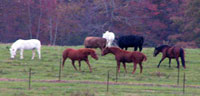 Equestrian Package

Board your horses in our stalls and use our corral while you luxuriate at the Lodge. Ride our trails and enjoy great beauty. Long trail rides are available over Walden's Ridge to Grassy Cove or in regional State Parks. See list of State Parks under Activities Section.
---
Custom Packages
Blend elements of the above packages or use your imagination. We will work with you to customize the get away of your dreams.
---